its been a while since i put a real post on here.. iv got a few half finished ones saved ill go back to them and post em for you guys lol just beenbusy cleaning digging shopping prepping mommying and alll that fun stuff to read on please......

we bought paint for our living room we are going to paint it this weekend.. we ordered the boys a bed it will be in this weekend or next weekend not sure yet got to call tomorrow and check on it.. and going to go buy some carpet for the living room this weekend well at least hopefully pick out 1 lol then after we get that put in (a friend is going to do it for us) we can get our stuff from storage and not have toworry about moving it when we do that room itl be done yeahh!!! i will ofcourse get pics as we go =) my mil n fil are coming down sunday to help with the boys and the painting and me and my mil will prob go carpet hunting its hard to shop for that kind of thing with 4 kids in tow lol Kiara had her 6 month well baby this week shes perfect of course =) 14 lbs 15 ounces and 25 3/4 inches long she is 50th % she got 2 shots wasnt thrilled but got over it fast.. I got Evans school pictures back giggle im uploading them now as well as a few picstures of Evan in his halloween costume lol he is mr fantastic aka "the stretchy guy" jarods goingto be a big fluffy bear cay a big flufy dragon and Kiara a big fluffy ladybug no pictures of them yet just E I have got myself a costume yet still deciding wev almost got all the bushes out (yeah us) and then bye bye trellis Kennyis gonnahave the crew show up one day in the next month and haul off the dirt from where the bushes are as its to rooty and hard packed not as good as we thought it was hmmmm maybe i can get them to haul away the shed too lol prob not cant hurt to ask though Evan reallylikes his new tkd school he says he likes it more then his old place he likes the sparring lol hes done it twice now and hes SO funny he has no idea what hes spose to be doing out there yet so hes swinging n kicking and giggling its SO cute lol he will learn hes been doing very good there paying attention and not playing around anywere near as muchif he keeps up the good work we will get him his own sparring gear so he doesnt have to borrow and so he is FULLY protected when he borrows he only gets gloves and helmet and the other kids have gloves foot pads chest pads groin cups helmet shin the works but they are careful its still cute im giggling just remembering him out there =) ok pics r loaded here ya go=)

MR FANTASTIC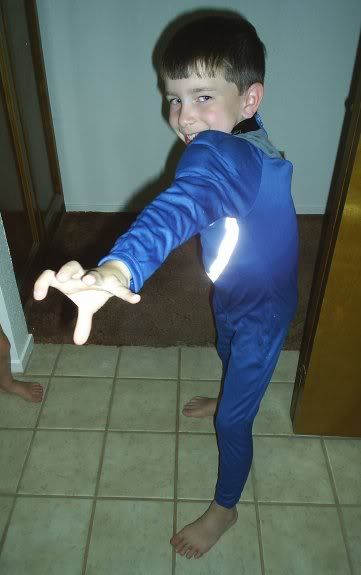 WATCH OUT! ill get YOU!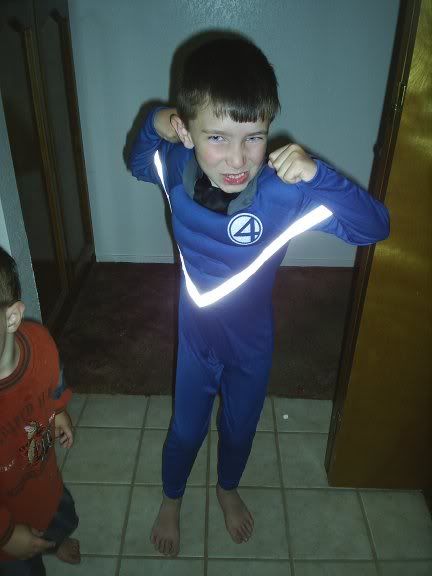 iv got MUSCLES hear me roar
arent I one handsome 7 year old!